Dr Bipin Adhikari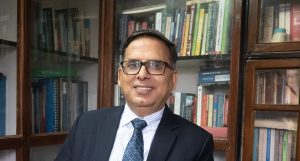 Dr Bipin Adhikari is a senior constitutional expert and policy analyst in Nepal. He is a Professor of Law at the Kathmandu University School of Law (KUSOL) and was its founder dean in December 2013. He is the chairperson of Law Subject Committee that oversees all undergraduate and graduate programmes of KUSOL and is a member of its Faculty Board. Adhikari is also a member of Kathmandu University Academic Council.
A PhD of the University of Delhi in constitutional law, Dr Adhikari was designated as senior advocate by the Supreme Court of Nepal in 2017. 
Dr Adhikari has significant academic and professional interests in constitutional law and public policy. Apart from constitutional law, he is also an expert in the area of institution-building, human rights, access to justice, infrastructure development, legal reforms, governance and the democratization process. Currently, he is a member of the Tribhuvan University Faculty of Law Research Committee and is a law curriculum adviser to the Lumbini Buddhist University. He is also a member of the Faculty Board of the School of Management and Law at the Nepal Open University in Kathmandu. Dr Adhikari is a member of the Sagarmatha Sambad Steering Committee, a global dialogue programme of the Government of Nepal, Ministry of Foreign Affairs that discusses a multitude of contemporary issues. Dr Adhikari also serves as the Senior Expert Member of the Thematic Group on Political, Legal and Social Affairs of the Policy Research Institute (PRI), the policy think tank of the Government of Nepal.
Dr Adhikari is the chief editor of the Essays on Constitutional Law, published by the Nepal Law Society bi-annually. The book that he most recently edited, A Treatise on the Constitution of Nepal 2015 (Kathmandu: Kathmandu University School of Law, 2020), is an important contribution to the study of the new Constitution of Nepal, 2015. Additionally, his recent book, Salient Features of the Constitution of Nepal, 2015 (Kathmandu: Nepal Consulting Lawyers Inc, 2016), is the first commentary on Nepal's new Constitution, and it critically deals with the reforms introduced under it. Dr Adhikari is a member of the Supreme Court Bar Association. He is a member of the Constitution Watch Group and continues to strongly support constitutionalism, the rule of law and liberal political causes in Nepal. He is counted as a leading voice in Nepal in the area of constitutional law.
Dr Adhikari's career in the past has involved assignments with national and international agencies, including the United Nations (UN) entities like the United Nations Office for Project Services (UNOPS), the Office of the United Nations High Commissioner for Human Rights (OHCHR), the UN Development Programme (UNDP) and the UN peacekeeping missions. He has previously served with the UN in Cambodia, Liberia and Timor-Leste.