The First Modern Nepali-English Dictionary
Professor Ralph Lilley Turner's A Comparative and Etymological Dictionary of the Nepali Language (London: Kegan Paul, Trench and Trubner Co Ltd. 1931)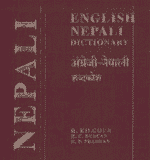 Professor Ralph Lilley Turner's A Comparative and Etymological Dictionary of the Nepali Language (London: Kegan Paul, Trench and Trubner Co Ltd. 1931) was a colossal exertion in Nepali lexicography. It was the first modern Nepali-English dictionary.
The identity that Turner's dictionary gave to Nepal and the Nepali language was a remarkable event in the history of nation-building in Nepal. The readers of the Nepali language, or what has often been described as the Khas-kura, Parbate, or the Gorkhali language, had received not only etymological notes, but its vocabulary, orthography, and the note in the form of conjunct letters were also explained.  Attempts were made to explain its relation with other Indo-Aryan languages. The dictionary also indisputably stated that the nearest relative of Nepali is a group of dialects known as Kumaoni spoken in the British Indian District of Kumaon. 

Turner was not the first person who worked on Nepali grammars, dictionaries, and vocabularies. There were many others. J. A. Ayton's Grammar of the Nepalese Language (1820), A. Turnbull's Nepali Grammer and Vocabulary (1887), Hemraj Guru's undated Gorkha-bhasa-vyakaran-Candrika, Somraj Sarma's Maddhya Candrika (1920), and R. Kilgour, H.C. Duncan and G. P. Pradhan's English Nepali Dictionary (1923) provided strong background to Turner. He also noted Gangadhar Sastri Dravid, M. E. Dopping-Heppenstal, SubadarKushalsing Burathoki, G.W.P. Money and F. Dewar's works. There is also an anonymous writer's Short Khaskura Phrases published by Thacker Spink and Company.
Colonel Kirkpatrick compiled many Nepali vocabularies in his book of 1811. Like him, many other writers who wrote introductory references on Nepal also worked on Nepali words and phrases. Apart from them, Turner was also able to read many important Nepali texts that were available, like Prime Minister Chandra Shamsher's speech on the liberation of slaves in 1925, [Poet Laureate] Bhanu Bhakta's Badhu–Siksa, or the famous but undated folk story Sunkesri Rani ko Katha. Turner left no stone unturned in his research to compile the dictionary as he wanted. His voluminous work which consists of 26,000 words is still considered the first real dictionary worth its name in Nepali. No doubt, it has remained a lasting source of information and knowledge for Nepali lexicographers.
The quality work that Turner produced was unmatched by any other lexicographers. His background as an English-Indian languages philologist was very helpful in his job. He was not only conversant in the Romani language, but also had deep knowledge of the Indo-Aryan languages. He also had the experience of working with the second and third Queen Alexandra's own Gurkha Rifles. He learnt quite a lot during the period from1920 to 1922 as the professor of Indian Linguistics at Benares Hindu University. He also had the background as the Professor of Sanskrit at the School of Oriental Studies at the University of London. He counts his friend Pandit Dharanidhar Koirala of Darjeeling as his constant counsellor and collaborator. Koirala has been credited for examining every one of the 26,000 entries in the dictionary. Bodh Bikram Adhikari of Kathmandu has been acknowledged equally, as it was him "through whose hands also almost every slip passed, and who added a very considerable number of words and meanings on his own account." Turner owes to Dr H. Jorgensen for the identifications in Newari and Professor F. W. Thomas and Dr L. D. Bennett for Tibetan. It is Ms Turner who has been credited for preparing the indexes which enable "the book to be used in some measure as a comparative etymological vocabulary of all the main Indo-Aryan languages." These indexes contain about 48,000 entries.
The Dictionary is rich in the identification of the words in use among common Nepalese folk. Words like kachmach (odds and ends), kandara (cavern) and kapakap (the noise made while swallowing) and, for that matter, rajkhani (a goat's testicles), loso (anything eaten with something else, especially food eaten when drinking raksi), and haise-hoste (exclamations used by men engaged together on a task of lifting or pulling something heavy) are just a few examples. Many words in this dictionary like chutto-putto (divided up, separated), thakuwa (a cow or buffalo which has just ceased giving milk on becoming pregnant), dhasaro (a small landslip), bhanro (a coarse kind of sack cloth made from the fibre of nettles) are not much in use now. Numerous words from the other indigenous dialects in Nepal that are used in Nepali are also meticulously included in the dictionary.
According to William Brook Northey, who wrote a book on Nepal about six year after the publication of this dictionary, "with the exception of certain tribes, nearly all Gurkhas are bilingual, speaking both  their tribal language which belong to the Tibeto-Burman group, and the lingua franca of the country, Nepali, though their proficiency in the latter varies greatly. Certain tribes for instance like the Gurungs, who inhabit the more inaccessible parts of the country, have a very imperfect knowledge of it."
The last paragraph of Ralph Lilley Turner's 1930 preface to the Dictionary deals with the Gurkhas, rather than Nepali lexicography: "As I write these last words, my thoughts return to you who were my comrades, the stubborn and indomitable peasants of Nepal. Once more I hear the laughter with which you greeted every hardship. Once more I see you in your bivouacs or about your fires, on forced march or in the trenches, now shivering with wet and cold, now scorched by a pitiless and burning sun. Uncomplaining you endure hunger and thirst and wounds; and at the last your unwavering lines disappear into the smoke and wrath of battle. Bravest of the brave, most generous of the generous, never had country of more faithful friends than you." This is the paragraph which was recounted at the British memorial to the Gurkhas which was unveiled by Queen Elizabeth II on December 3, 1997, in London.
The person who produced this great dictionary of Nepali language never had any opportunity to set his foot in the Kingdom of Nepal. He was familiar with the territory both East and West of Nepal, but not Nepal itself. But that did not prevent him to work on this dictionary.